Check out my new, non-hockey, article in Monday's Wall Street Journal. I find that, this year, there was a 1 in 1.47 quadrillion chance of picking a perfect NCAA March Madness bracket.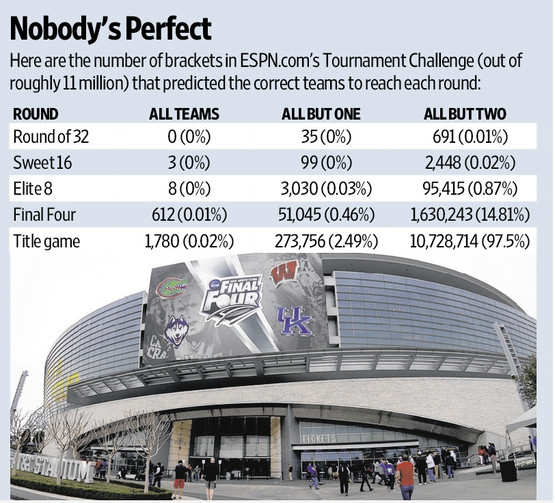 I used the win probability metric, which I described here, to calculate the average probability that each team wins each of their games. Then, for each team, I calculate a weighted-average (based on the logged temporal distance) of their win probabilities. In other words, the most recent game gets...

In the past few years, in-game win probability metrics have become increasingly common in the NFL, MLB, and NBA. Similar analytics for the NHL, however, have lagged behind. In this post I'll present version 1.0 of my NHL win probabilities metric.
So far, the metric is based on home ice...

I started working today on a new project. I'm trying to build a dataset that allows somebody to get the probability of a team winning a game, given the current score, time remaining, PP situation, and other variables. So far I've built the score and time remaining into my model,...

I just wrote my first article for Deadspin. A hot topic in the NHL community this week has been the possibility of tweaking the overtime rules to generate more goals and fewer shootouts. In the article, which is a followup to an article I wrote here a...