I found out this morning that I've been selected as one of a handful of people who will present their research at the ESPN/MIT Sloan Sports Analytics Conference on February 27-28. The paper I'm presenting is called "Assessing the offensive productivity of NHL players using in-game win probabilities."...

I wrote another article today for Deadspin. I look at whether scoring rates in NHL shootouts are different when the game is on the line. Here's a snippet from the article:
"A simple t-test, which evaluates whether these means are statistically distinguishable from each other, indicates that the...

I've made some more big changes to my win probabilities app. The biggest change is that the app now will show the win prob graphs while games are still on-going. Here's an example: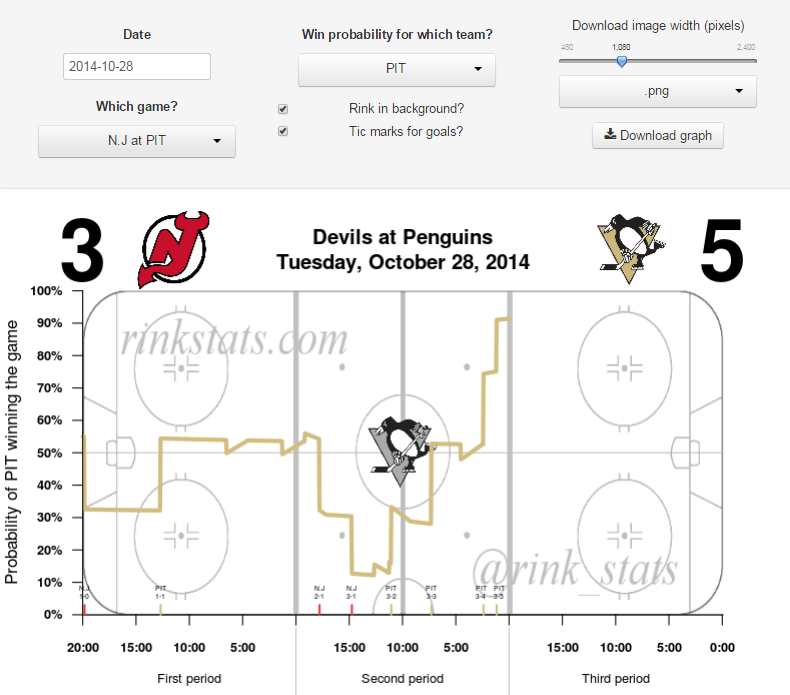 The app also should now run a fair bit faster because I...

In the last few days I've worked to do a redesign of my individual game and playoff series win probability apps. Most of the stuff I've done to them as been aesthetic, although I've tweaked a few things that should make them run more effectively.
Here's a screenshot...

Last fall, my friend and fellow UGA grad (and Stanford political science PhD student) Lucas Puente and I started a project looking at whether college football teams play better or worse when they're featured on ESPN's College Gameday pregame show.